Water Softener Installation • Boise, ID
Say goodbye to hard water…
Hard water can make things like laundry, dishes, and bathing unpleasant because it leaves mineral deposits EVERYWHERE. Water softeners work by removing the calcium and magnesium ions from the water using salt to create an all-around better experience for you!
Start Here
Get $250 OFF any water softener and installation from All About Water.
Ready to start living with better water? Complete the form below to claim your discount for any of our water softeners. It's easy!
Why do I need a water softener system?
Do you have hard water? Is your hair dry and brittle? Do you find yourself using a lot of soap to clean dishes, laundry, and other household items? If so, then installing a water softener is the solution for you. A water softener will give you softer skin and less stress on your pipes. You'll also notice that the clothes in your washing machine are cleaner than they were before.
Get the best water softener for the home at an affordable price.
Our systems perform like the Ecowater Water Treatment Systems found in Costco for over $3,000 at a fraction of the cost!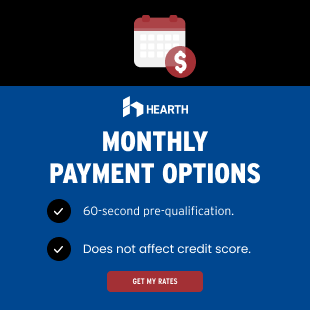 Yes, we accept monthly payments.
All About Water makes it affordable to enjoy a new water softener, reverse osmosis system, and/or oxidizer in your home. Get 0% interest financing on new water filtration systems today through our partnership with Hearth®.
These aren't your AVERAGE water softeners.
Sure, you can find a cheap water softener for less than $500… but those won't get you very far. When it comes to regular water softeners you'll find at Home Depot® or Lowes®, the All About Water lineup with upflow brining evaporates the competition.
Slower Salt Usage!
That means you won't have to refill your new softener with those heavy bags of salt as often as you would with regular water softeners.
Wastes Less Water!
Our water softeners use less water during the regeneration process thanks to upflow brining. It's good for the Earth and great for you.
Most Durable Strength!
Equipped with the industry's best Clack® Valve and made in the USA, our softeners combine quality with design to last the longest.
Need help with the installation? We've got you covered.
If you'd like someone to help install your water softener, just let us know! Our technicians have years of experience and can handle any installation.
Professional Installation
By an All About Water technician
only
$250
for 1″ pre-plumbed loops & replacements
We solve and eliminate the worst problems in your water.
Whether you're on a well or in the city, All About Water technicians have the experience and expertise to make sure you get the best water possible. We can help you eliminate bad odors, mineral deposits, and rust-colored stains that come from high iron. Our technicians have years of experience in helping homeowners get the most out of their water supply.
What's it like to work with All About Water?
Our process is incredibly simple and customer-friendly. All you have to do is get in touch with us and we'll work with you to determine the best solution for your home water needs – and at a cost that fits your budget. We'll even provide a complimentary water analysis and free local delivery!
Reverse Osmosis System:
Do you need one?
Most people will benefit from a Reverse Osmosis System because it serves a different purpose than a softener. A water softener removes the hard minerals like calcium. A reverse osmosis system makes the water taste great and provides what you need for drinking and cooking. The best way to get clean drinking water is with a combination of both solutions.
Interested? We can install both at the same time!
WHO WE ARE
Nice to meet you!
All About Water is a water store in Meridian, Idaho that provides the most delicious and clean filtered drinking water around. We have several refill stations in our store for those who are health-conscious or need access to reliable, clean drinking water. All of our products are made from high quality materials and guaranteed to satisfy.
Oh, and we love getting to know our customers! Come on by and chat with us next time you're in the area.
Testimonials
See what the people are saying…
Look… we all ♥️ Idaho, but our water is really hard.
Thankfully, we have a solution for that. Use our state-of-the-art water softening systems to make your water silky-smooth.
Hurry, our sale is ending soon!